WAITING LIST FOR PLANNED LITTERS - HOW DOES IT WORK?
N2SPOTS GREAT DANES is always accepting puppy pick reservations for upcoming and planned litters. Reserving a puppy pick basically puts you in a queue for which puppy # you can choose out of a litter. We open up six (6) spots for every litter for picking order, requiring a $250 non-refundable deposit (transferable for up to one year). 
All other approved applications will have the option to be placed on our Reserve List with no pre-deposit, but will wait to choose their puppy after the first 6 puppies have been chosen – no picking order – first come first serve with a $500 non-refundable deposit to reserve a puppy.  For example, if there is a litter of eight puppies and you have reserved puppy pick #3, you will have 6 puppies to choose from.  An additional $250 non-refundable deposit would be due to reserve a puppy at that time, making a total deposit of $500 which also goes towards the purchase price of the puppy.  Once puppy picks are chosen, any remaining puppies in the litter are open to our reserve list for reservation before being offered to the general public.
FAQ's
We want to thank you for your interest in N2Spots Great Dane puppies!  We take pride in our Danes and strive to make sure that all of our puppies are placed with forever homes.  Please take the time to learn about the Great Dane breed and prepare your family for a 150-200 lb gentle giant as a new family member!
WHAT IF I CAN'T GET THE PUPPY AFTER PUTTING A DEPOSIT DOWN?
As previously mentioned, our deposits are non-refundable BUT transferable.  This means that if for whatever reason you cannot purchase a puppy from the litter you put a deposit down on/or the puppy you put a deposit down on, your deposit will be transferred to our next litter.  Our deposits are transferable throughout the year the initial deposit was placed.  Once a year has passed from the date your deposit was paid, your deposit will no longer exist and you would need to put another deposit down to reserve a puppy or puppy pick.
CAN I GET MY DEPOSIT BACK AFTER PUTTING A DEPOSIT DOWN?
All of our deposits are non-refundable, but transferable.  Transferable meaning you can transfer your deposit to any of our upcoming or current litters.  You will be transferred to the next available puppy pick for whichever litter you choose.  Our deposits are only transferable for a year after the initial deposit was paid.
HOW MUCH IS THE DEPOSIT?
Our deposits are $500 and go towards the purchase price of the puppy.  Pre-deposits are $250 to reserve a picking spot on a waitlist.
WHAT FORMS OF PAYMENT DO YOU ACCEPT?
We accept Cash, Zelle, Venmo, & PayPal.
WHAT IS REQUIRED OF ME TO PLACE A DEPOSIT FOR A PLANNED LITTER?
A completed puppy application and a scheduled phone interview with us.
WHAT ARE THE PRICES OF YOUR PUPPIES?
Companion pricing of our puppies range from $2,800-$3,500.  Full AKC breeding and showing rights, add $1,000.  Prices are not negotiable, and are subject to change at any time.
CAN I VISIT MY PUPPY BEFORE IT IS READY TO GO?
No visitation of our newborn and unvaccinated puppies is allowed, no exceptions.  We enforce this policy strictly to protect the entire litter from deadly infectious disease transmission from outside visitors.  Our puppy's health is our #1 priority.
CAN I MEET A PUPPY BEFORE DECIDING TO ADOPT?
On occassion we will have puppies still available for adoption that were not reserved prior to turning 8 weeks old.  Appointments can be scheduled to meet any remaining puppies after they have turned 8 weeks old and have received their first puppy booster.
DO YOU OFFER A HEALTH CONTRACT WITH MY PUPPY?
ARE YOUR GREAT DANES REGISTERED WITH AKC?
YES!  All of our Great Danes are registered with the American Kennel Club, AKC.  Copies of registration on the sire and dam of any litter produced can be provided.  AKC registration is available for all litters produced, but optional for each family upon request prior to the transfer of an adopted puppy.
If the timing of the planned litter does not work for you, please fill out a contact form to opt in for receiving notifications via email of our next litters. Click the link below to sign up for notifications of future litters.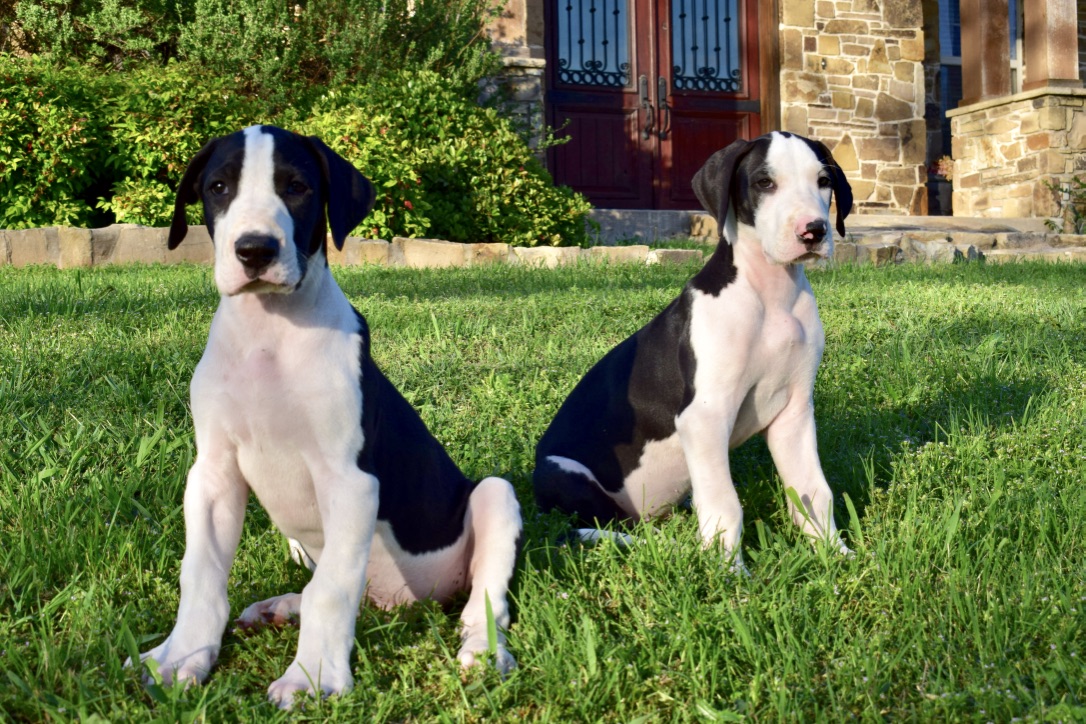 Visitation Policies
Whitewright, Texas
We do not allow visitors of our newborn puppies, no exceptions.
N2SPOTS TAKE HOME PROCESS
Our puppies are generally ready to leave for their forever home by 8 weeks of age. Your deposit agreement will include that reserved puppies must be scheduled to be picked by 8 weeks. However, N2Spots Great Danes reserves the right to hold your puppy for an extended amount of time if we feel the puppy is not ready to leave.
Travel Options for Your Puppy
We offer pickup here at our ranch
Flying your puppy as cargo (weather permitting)
We can meet you at the airport for an in-cabin flight with your puppy, you pay for airfare with no charge for us to deliver to the airport.
Flight nanny services are available to most cities/states.
They are flown out of DFW Airport and arrive in the closest major airport to you. The current estimated costs for flying your puppy as cargo is about $500, this includes airfare, crate, and travel exam. Prices are subject to change at any time for air travel and other cost increases beyond our control.
We also offer delivery of your puppy. Free if in the DFW metroplex, a per mile delivery charge will apply for all other locations. We can also meet you at a half way point to save travel time.
Included with Your Great Dane Puppy
Your N2Spots Great Dane puppy will come home with all age appropriate vaccines, deworming, dewclaws removed, puppy packet including 2 year genetic health contract, health records, and lots of love! All of our adult Danes are registered with the American Kennel Club (AKC).
NOTE…We have made the decision to only register our litters with AKC upon special requests from the new owner for all LIMITED AKC REGISTRATIONS.
This is a cost savings we needed to implement since only about 1% of new owners actually get AKC registration paperwork on their puppy unless it is sold with AKC showing/breeding rights. We can provide copies of the parents AKC registration papers in your puppy packet if requested. All of our puppies are eligible for AKC registration and AKC events.
What does AKC Full and Limited Registration mean?
AKC FULL REGISTRATION – Dog may participate in any AKC sponsored event. Puppies produced by two dogs fully registered with AKC will be eligible for AKC registration. Full AKC registration is determined by us, the breeder, and to approved homes ONLY.
AKC LIMITED REGISTRATION – Dog is ineligible to be entered in an AKC licensed breed competition or member dog show. Dog is however eligible to compete in other AKC licensed breed events such as Obedience, Tracking, Field Trials, Hunting Tests, Herding, Lure Coursing, Agility, and Earth Dog. (A Great Dane would not be competitive in all of these events for obvious reasons) NO puppies produced by a dog with Limited registration will be eligible for AKC registration.
Microchipping Your Puppy
We also currently do not microchip puppies prior to going home. This is an easy and affordable procedure that your vet can do on one of the puppy well visits. It's a personal preference and not mandatory. Last, we do not crop our puppy's ears. We are available to discuss the costs and process for cropping ears. Our vet recommends cropping ears before 12 weeks of age.