N2SPOTS GREAT DANES OF TEXAS
Breeder of Quality European & American AKC Great Danes
HARLEQUIN, MANTLE, & MERLE
GREAT DANES IN TEXAS
ESTABLISHED IN 2006
WELCOME TO OUR NEW SITE!
Expecting Litter D June 18-20th!

Updates, Happenings, & News from N2Spots Great Danes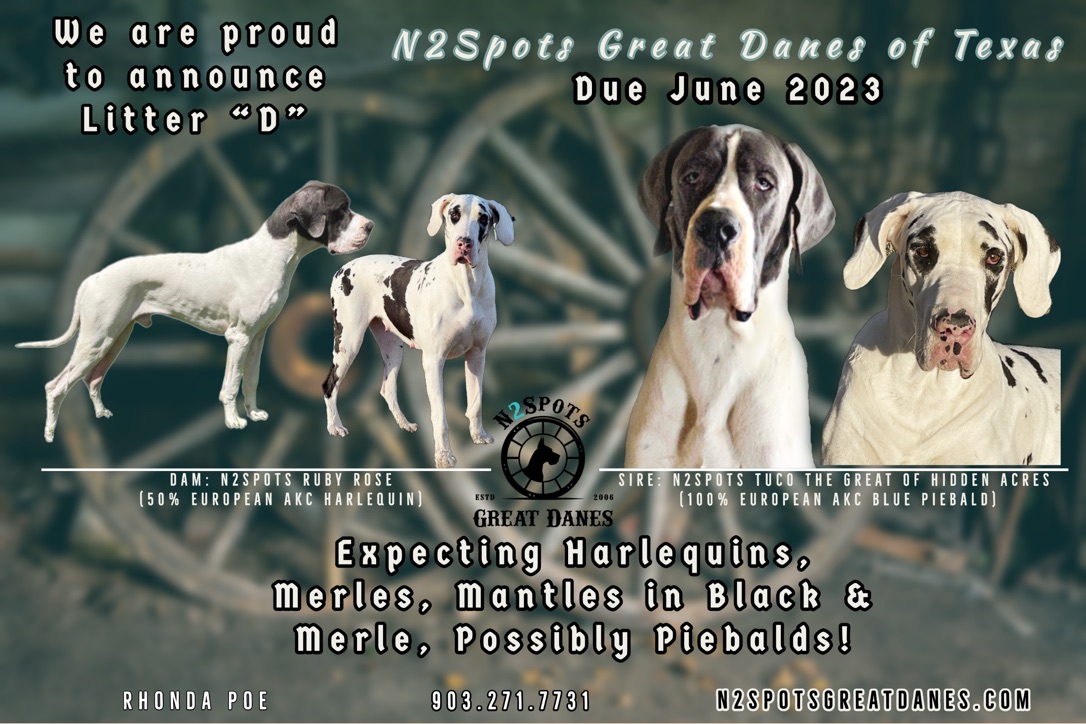 LITTER D ARRIVED JUNE 21, 2023!!
6 GIRLS AND 5 BOYS
CLICK ON THE LITTER PICTURE BELOW TO SEE OUR AVAILABLE PUPPIES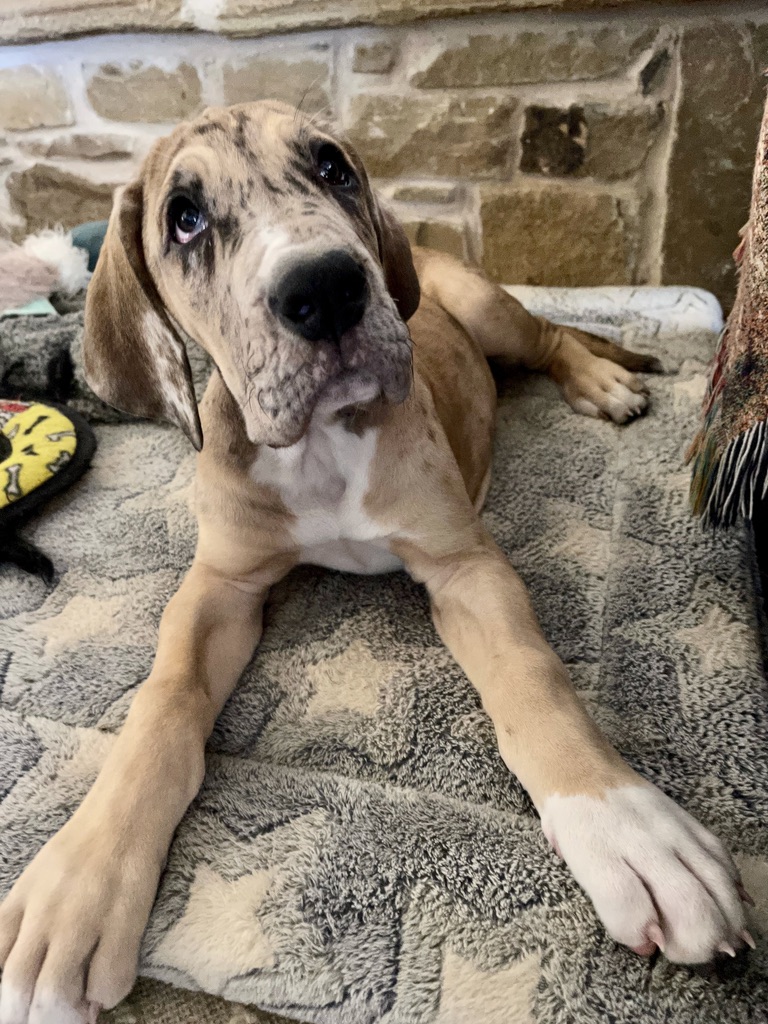 Litter "C" News
Keep up and follow along with updates from Litter C, due Jan. 2023
Litters for 2023
Take a look at all of the planned N2Spots Great Danes litters for 2023
Dane Updates
Stay in touch with the Danes of N2Spots! See new additions, and keep up with your favorites
Puppy Updates
Follow along with our puppies as they join their new families
Breed News
Stay updated with quick-read content about the Great Dane breed
We offer lifetime breeder support for our puppies.  Knowledge, dedication and building relationships are the key to any success as a breeder and an owner.

Welcome!
N2SPOTS GREAT DANES OF TEXAS         We are a small kennel established in 2006, located about 55 miles NE of Dallas, Texas.  Our focus are centered on health, temperament, intelligence, athleticism, and structure of the Great Dane in Texas.  We specialize in blended European and American bloodlines to produce what we consider the perfect structured Dane. Blocky heads, with bigger bone and mass, with a little less slobber factor! We breed 2-4 litters per year, and would love for you to own one of our amazing fur babies!
Our Story
We believe there is no other breed with the presence, mind, and iconic personality that is the Great Dane.
Meet Our Danes
Our Danes are FAMILY and a liftetime commitment.  We work hard to produce show quality Danes with good health,  wonderful temperaments, and consistent conformation.
Our Values
We have a lifetime commitment to our puppies and owners. We are an AKC registered breeder of Great Danes in Texas, and more.
N2Spots Great Danes is a small, in-home breeder settled in North Texas
Good genetics and responsible breeding are just part of what we do. Knowledge, dedication and building relationships are the key to any success as a breeder and a buyer, and we strive to help our clients achieve that.
Our Danes are born and raised in our home and treated like family!
Our facilities include indoor/outdoor heated and cooled kennels.  We have large turnouts for exercise, and we give hugs and kisses daily!
What Our Families Are Saying About Us
We love our Boss Man. He is gentle but strong. and incredibly well-bred. We applaud N2Spots for their devotion to uphold all the wonderful traits we all love in our Danes!
Wonderful folks who breed high-quality Danes. Ours is almost 10 and extremely healthy and beautiful. We are ready to get a brother, and we would not even consider another breeder!
I searched for years for the right breeder and have been dreaming of this day for a very long time.
New Puppy Shopping List - COMING SOON!
12 in 1 puppy daily essential kit. Get started right with the N2Spot Approved puppy starter kit.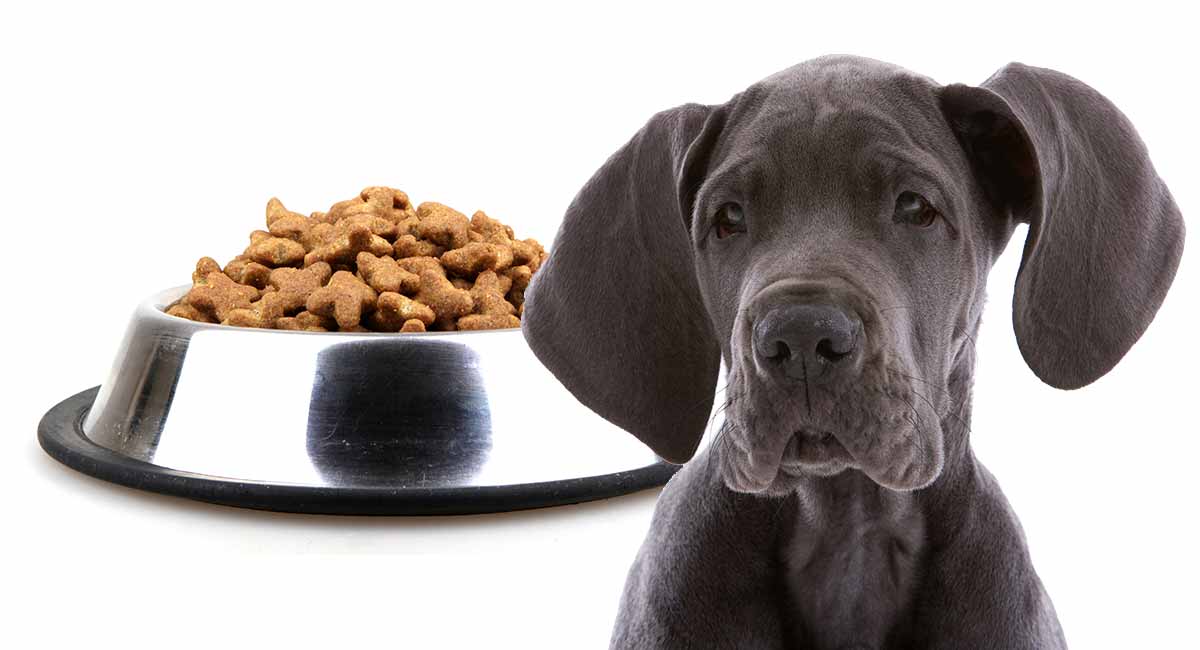 See our recommended food for your new Dane puppy and why this is our pick for the best Dane Puppy food.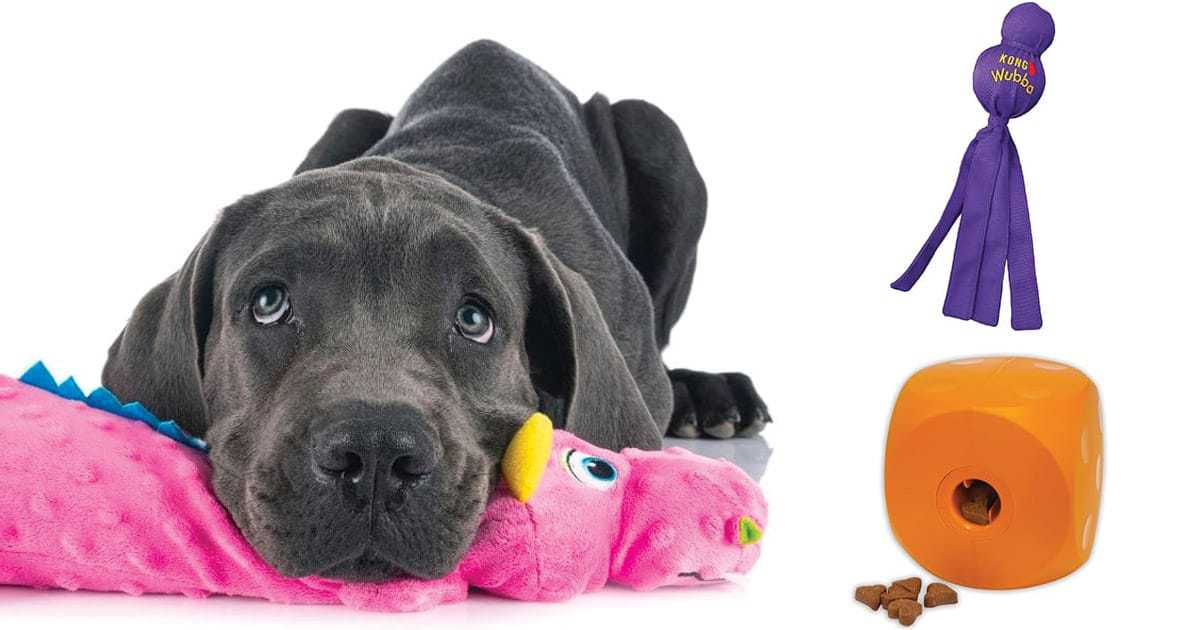 This is our guide for the best toys for Danes. Toys are very important for growing Danes and you should never have a lack of toys at their disposal!
What To Expect When Caring For a Great Dane
Owning a dog is not just a privilege; it's a responsibility. They depend on us for, at minimum, food and shelter, and deserve much more. When you take a dog into your life, you need to understand the commitment that dog ownership entails.
Health
Bloat, or gastric dilatation-volvulus (GDV), is the number-one killer of Danes. Owners should educate themselves to recognize the signs that bloat could be happening and what to do if so. Many breeders and owners consider a surgery called a prophylactic gastropexy ('preventative tack') that can help prevent some of the more serious aspects of GDV. Other health issues that can affect the breed include eye and cardiac diseases, hypothyroidism and autoimmune thyroiditis, and hip dysplasia. A responsible breeder will screen breeding stock for conditions that can affect the breed.
Grooming
For most of the year the Great Dane's short, smooth coat doesn't shed much, but given the size of the dog, this can still amount to a fair bit of hair. Weekly brushing with a medium-bristle brush, a rubber grooming mitt or tool, or a hound glove will help keep shedding to a minimum. During the shedding season once or twice a year, however, hair loss will be more profuse, with a daily brushing ideal. Great Danes need a bath only occasionally unless they get into something messy. As with all breeds, the Great Dane's nails should be trimmed regularly, because overly long nails can cause the dog pain as well as problems walking and running.
Exercise
Great Danes may seem sedate, but they require daily exercise appropriate to their age. A brisk walk two or three times a day can be enough. They can make good companions on jogs or hikes, but you must wait until the dog is 2 years old to avoid damage to growing joints. Because of the risk of bloat, avoid rigorous exercise around mealtimes. Danes tend to follow their nose wherever a scent takes them, so they should always be kept on a leash and only allowed loose in areas secured with a tall fence. Many Great Danes enjoy participating in agility, obedience, tracking events, weight pulls, and sports such as flyball.
Training
Early socialization and puppy training classes are recommended. For a breed as large and powerful as the Great Dane, obedience training is a must. Socialization'¿gently exposing the puppy to a wide variety of people, places, and situations'¿will help him develop into a well-adjusted adult. Great Danes are sociable, friendly, and eager to please, and they respond well to firm, consistent training methods. They need to have human contact, affection, and socialization with other people and animals.
Nutrition
Feed the Great Dane a high-quality dog food appropriate to the dog's age (puppy, adult, or senior). Give table scraps sparingly, if at all, especially avoiding cooked bones and foods with high fat content. Learn about which human foods are safe for dogs, and which are not. Owners must be aware that the number-one killer of the breed is bloat, where the stomach distends and twists. The causes of bloat aren't fully understood, but experts agree that multiple small meals per day and preventing vigorous exercise around mealtimes can help reduce the chances of it happening.